Navien Training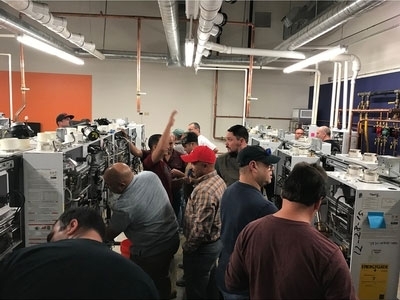 From October 21st to October 23rd, a group of Supply New England employees and contractor customers set off to the Navien Training Facility in Cherry Hill, NJ to learn more about the Navien products.
The contractors that attended the training became NSS (Navien Service Specialist) certified. A group of Supply New England employees were also invited to attend, in order to become more familiar with the product to better support our contractors. The training took place over the course of 2 days. "I wish we had another day" said Paulo Demorais, a Supply New England contractor customer.
The training included a presentation for the group that educated them on existing products as well as new product offerings. The training also consisted of hands-on troubleshooting and breakdown of the Navien equipment. "We received great feedback from the group. Contractors said that they would be changing the way they installed the product based on what they learned." said Nancy Imhoof, HVAC Sales Manager. Overall, the training was very beneficial to both the contractors and employees and will be planned again. The training instructor, Ian Monaghan, said that in the future he wanted to add a third day to the training. At the conclusion of the training the group was presented with a few gifts from Navien including a service parts kit of their choice.