Pawtucket's New Training Room!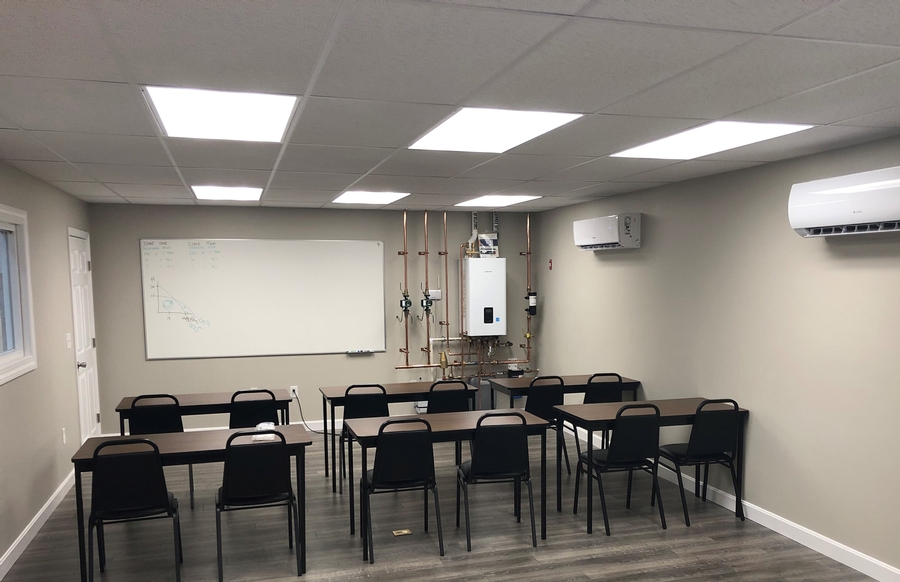 Supply New England is proud to announce the addition of our newest training room at our Pawtucket location. We would like to thank everyone involved in the project. Martel Plumbing & Heating, Stem electrical, Eric Venns plastering and Titian Home Remodeling. I am sure you would all agree with us that they all did an outstanding job.
Installed in the room is a Gree 3-ton multi zone outdoor unit with two 18,000 BTU indoor units one Sapphire and one Vireo. We have one of the newest additions to the Navien lineup the NFC200. It is a true game changer in the Navien world. Installed on the NFC200 is a Naviclean magnetic filter, a Navien PeakFlow anti-scale filter and of course we had to add the Navilink WIFI remote control system. We are using a Saniflow condensate pump with built-in neutralizer, Sanicondens 041. What would a boiler be without a Taco circulator? We have the Taco 0018e circulators installed, you really need to check out this pump, it is the "Mac Daddy" of residential circulators. We think the Zilmet flat expansion tank is a perfect fit for the application. Of course we needed to do something with the heat from the Navien, so we installed 2 Modine HC unit heaters. And last but not least, we have 2 Honeywell TH6220WF-2006 WIFI thermostats.
Make sure to stop by and take a look at the room. Jake Fernandes, the branch manager, would be happy to give you a tour.